Double Seventh Festival of lunar calendar in China
Double Seventh Festival of lunar calendar in China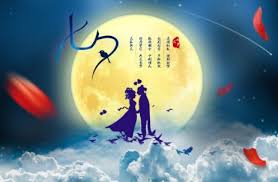 The seventh day of the seventh month of the lunar calendar is known as Qi Xi Jie or 七夕节, a traditional holiday that has been recently called China's Valentine's Day.
The 2,000-plus-year-old holiday marks the star-crossed love between a cow herder Niulang and Zhinu, a weaver of clouds and the daughter of the Jade Emperor who is the Daoist ruler of heaven.
  The story goes that the two fell in love and got married, but their bond was met with disapproval by Wangmu, Zhinu's mother and the queen of heaven. Niulang is viewed as the star Altair and Zhinu as the star Vega. With a swift move of her hairpin, she separated the two with a river in the sky, known today as the Milky Way.
  But the queen took pity on them and gave them one night of the year to spend together. On Qi Xi Jie, the queen is said to send magpies to bridge the celestial gap between the two star lovers.
A great line from Hsu's translation: "A night of rendezvous, across the autumn sky. Surpasses joy on earth."
JINAN ZHUOHENG EXTRUSION MACHINERY CO.,LTD
Machines we Deals In:-
ü Fish Feed Machines
ü Pet Feed Machine
ü Pasta Extruder
ü Corn Flakes Machines
ü Soybean Protein Machines
ü Puffed/ Fried Snack Food Machine
...................

Welcome inquiry and coming !!!@
Get the latest price? We'll respond as soon as possible(within 12 hours)