China geared up to meet surging global demand of ventilators
China geared up to meet surging global demand of ventilators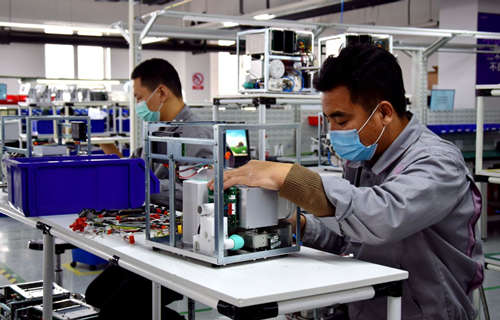 China's ventilator production capacity accounts for one-fifth of that of the globe and the country has received more than 20,000 orders of ventilators from overseas.
The current daily production capacity of ventilators has increased to 1,200 units from 200 to 300 at the beginning of February and with tens of thousands orders the company is still receiving hundreds of inquires each day, said Jiang Dong, marketing manager of BMC Medical Co Ltd.
The company is making every effort to increase production capacity of ventilators to meet the demand from Italy, France, UK and the United States, Jiang said.
BMC Medical Co Ltd is just one of the Chinese ventilator manufacturing companies working 24 hours a day to tackle challenges of surging ventilators orders brought by the novel coronavirus pneumonia.
Statistics from the WHO indicate that one out of every six COVID-19 patients will have severe illness and dyspnea, and non-invasive ventilator-assisted ventilation will be used.
About 1,000 ventilators donated by Chinese private organizations to New York State arrived last week, about 300 ventilators were shipped from China to the UK, and Spain purchased more than 900 ventilators from China.
Get the latest price? We'll respond as soon as possible(within 12 hours)